What is Varnish Cache:
Varnish is an HTTP caching system which stores copies of the pages served by the dedicated linux centos server or Linux VPS Hosting servers.
From next if same page is required to execute,Varnish cache will serve the same copy of webcontent page instead of requesting page from Apache Server.
Varnish cache is being designed specially for HTTP accelerator(receive proxy),The main role of varnish cache to store his cache data in the memory,This reduces the CPU usage and database access by the base server.
Varnish becomes the best solution for full site optimization and page load speed. We provide optimised web hosting to all our customers, so that web pages can load faster.
Advantage of Varnish Cache:
Varnish Cache delivers high performance website content delivery.
Less consume of server resource.
Consumes low CPU Usage.
Loading time will be higher.
It Improves SEO Ranking.
Best solution for full site optimization.
The below Architecture will show you clearly how the varnish cache works.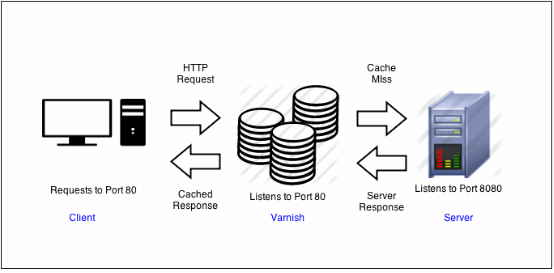 From the architecture we could see services are requested to display the website content with varnish caching system.
Initially server is setup with varnish caching system and placed all your website content into the server.
Client end is requested to access the URL: "http://example.com" HTTP request listen on port "80" and traveled through network by fetching DNS entry and finally fetch the server.
After fetching the server delivers the website content at client end in the browser.
IF the client request same URL again,The page will deliver the content from varnish caching system.
Initially the loading time of website is around 3-5s but after communicating with varnish cache the loading time reduces to 1-2s.
The performance of varnish cache is really awesome.
Normally ECOMMERCE website in the industries uses Varnish cache for the better loading time of the websites.So keeping this technology in our mind we have build our own customized "HR PANEL" build with varnish caching technology.
We provide this panel for free of cost to our "VPS & Cloud" clients to deliver high performance in there website speed.
HostingRaja has come up with varnish caching technology implemented to our own customized "HRPANEL".
All are VPS & Cloud customers are very much happy to use our customized panel with varnish cache technology enabled.